STOP SAE
Stopflex fittings, flange and others
Product image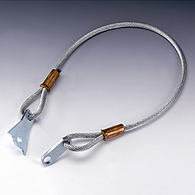 Properties
| | |
| --- | --- |
| Application | Personal protection against whipping hose |
| Material | Steel |
Description
A high tensile steel cable with lug and hooks fitted.
The steel cable is anchored with an appropriate STOP-FS clamp on the hose and at a fixed point. This prevents the hose from whipping around.

Note
For flange fitting, one screw must be 4 mm longer.

Item

Sort upwards
Sort downwards
Identification
Mounting hole
(mm)
Length
(mm)
Bore
(mm)
STOP SAE 085 L 300
8,5
300
6,4
STOP SAE 105 L 300
10,5
300
6,4
STOP SAE 105 L 450
10,5
450
8,4
STOP SAE 125 L 450
12,5
450
8,4
STOP SAE 130 L 450
13,0
450
8,4
STOP SAE 145 L 450
14,5
450
8,4
STOP SAE 165 L 450
16,5
450
8,4
STOP SAE 205 L 450
20,5
450
8,4
Ordering information
Please order the appropriate STOP-FS clamp separately.

Disclaimer
Despite careful checking, we cannot guarantee the accuracy of all information included on this site, and we accept no liability.
All data and information in our online catalogue are based on currently valid standards and the regulations from the employer's liability insurance association. Product safety can only be guaranteed when our assembly instructions are carefully observed. Non-adherence to these regulations can affect product operation and functioning and result in a loss of warranty. Our warranty is only valid for HANSA-FLEX products. Our products are constantly subject to further development and technical changes are therefore possible.