TGF ISO
Protective hose
Product image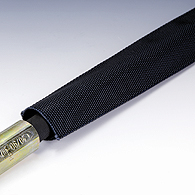 Properties
| | |
| --- | --- |
| Application | Personal protection against oil jet injuries |
| Inner layer | special nylon |
| Colour | black |
| Temp. max. | 100 °C |
Description
Interweaved nylon threads with maximum tensile strength atomise the hazardous oil jet that emerges when a hose bursts.

Note
Extremely abrasion resistant, flame retardant.

Item

Sort upwards
Sort downwards
Identification
Internal Ø
(mm)
TGF ISO 17
17
TGF ISO 20
20
TGF ISO 23
23
TGF ISO 25
25
TGF ISO 27
27
TGF ISO 31
31
TGF ISO 33
33
TGF ISO 36
36
TGF ISO 40
40
TGF ISO 44
44
TGF ISO 47
47
TGF ISO 53
53
TGF ISO 55
55
TGF ISO 60
60
TGF ISO 66
66
TGF ISO 73
73
TGF ISO 93
93
TGF ISO 112
112
TGF ISO 127
127
Disclaimer
Despite careful checking, we cannot guarantee the accuracy of all information included on this site, and we accept no liability.
All data and information in our online catalogue are based on currently valid standards and the regulations from the employer's liability insurance association. Product safety can only be guaranteed when our assembly instructions are carefully observed. Non-adherence to these regulations can affect product operation and functioning and result in a loss of warranty. Our warranty is only valid for HANSA-FLEX products. Our products are constantly subject to further development and technical changes are therefore possible.